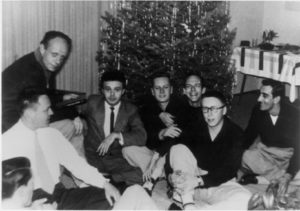 [/caption]The Mattachine Society was the first sustained gay rights group in the United States. Founded in 1950 by Harry Hay, Rudi Gernreich, Dale Jennings, Bob Hull, Chuck Rowland, James Gruber, and Konrad Stevens. Referred to as "Society of Fools" at their first meeting, the group changed its name to "Mattachine Society" as suggested by Gruber and chosen by Hay. The name is inspired by a French medieval and renaissance masque group of masked men who, through anonymity, were empowered to criticize ruling monarchs with impunity. "So we took the name Mattachine because we felt that we 1950s Gays were also a masked people, unknown and anonymous, who might become engaged in morale building and helping ourselves and others, through struggle, to move toward total redress and change."
Mattachine's membership grew slowly at first but received a major boost in February 1952 when founder Jennings was arrested in a Los Angeles park and charged with lewd behavior. Often, men in Jennings' situation would simply plead guilty to the charge and hope to quietly rebuild their lives. Jennings and the rest of the founders saw the charges as a means to address the issue of police entrapment of homosexual men. The group began publicizing the case (under the name "Citizens Committee to Outlaw Entrapment") and the publicity it generated brought in financial support and volunteers. Jennings admitted during his trial to being a homosexual but insisted he was not guilty of the specific charge. The jury deadlocked (11-1 in favor of acquittal) and Mattachine declared victory.
Following the Jennings trial, the group expanded rapidly and diversified, with more women and people from a broader political spectrum becoming involved. With that growth came  concern about the radical left slant of the organization. In particular, Hal Call and others out of San Francisco along with Ken Burns from Los Angeles wanted Mattachine to amend its constitution to clarify its opposition to so-called "subversive elements" and to affirm that members were loyal to the United States and its laws, laws which declared homosexuality illegal. In an effort to preserve their vision of the organization, the founding members revealed their identities and resigned their leadership positions at Mattachine's May 1953 convention. With the founders gone, Call, Burns and other like-minded individuals stepped into the leadership void, and Mattachine officially adopted non-confrontation as an organizational policy. The reduced effectiveness of this newly-organized Mattachine led to a precipitous drop in membership and participation. The Los Angeles branch of Mattachine shut down in 1961.
The Temperamentals
The Temperamentals is a play about the Mattachine Society and the complex relationships of its founding members. Contribute to our Kickstarter campaign today to bring the story of The Temperamentals to the Seattle stage.
Sources
http://en.wikipedia.org/wiki/Mattachine_Society
http://www.outhistory.org/wiki/Harry_Hay:_Founding_the_Mattachine,_part_2