By Lillian Hellman
Directed by Daniel Wood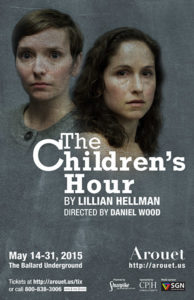 May 14-31, 2015
The Ballard Underground
2220 NW Market Street, Seattle
Directions
A serious and adult play about two women who run a school for girls. After a malicious youngster starts a rumor about the two women, the rumor soon turns to scandal. As the young girl comes to understand the power she wields, she sticks by her story, which precipitates tragedy for the women. It is later discovered that the gossip was pure invention, but it is too late. Irreparable damage has been done.
Meet the cast and crew.
Take a look of the show by visiting our rehearsal and production galleries.
Get Tickets
Performances begin promptly at the scheduled time, there is not late seating.
Please note: in the event of a sold-out house, seats will be held until the scheduled start time. They will then be sold those on the waiting list, if any.
Sponsored by
Media Sponsor