Plays about marriage. Or not.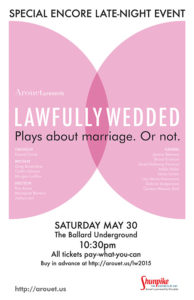 Saturday May 30, 2015
10:30pm
The Ballard Underground
2220 NW Market Street, Seattle
Admission: Pay-what-you-can
Directions
Conceived by Daniel Cords
Written by: Greg Brisendine (poet), Caitlin Gilman (playwright), and Morgan Ludlow (playwright)
Directed by: Roy Arauz, Mariajosé Barrera, and Joshua Jon
Featuring: Jeremy Behrens, Bruce Erickson, Jared Holloway-Thomas, Addie Keller, Idalia Limón, Carissa Meisner Smit, Lisa Marie Nakamura, and Gabriel Sedgemore.
Read all about the artists.
What is love? What is marriage? What does it all mean? People have widely differing views, and that is the subject we explore in this collaborative piece about marriage equality. Through personal interviews, theatre, and poetry we will explore the topic and challenge your preconceived notions. This collaborative production is sure to speak to your heart!
If you missed it the first time, this is your chance to catch this thought provoking and relevant production.
Tickets
All tickets are pay-what-you-can at the door or purchase in advance below ($5 minimum.)